About our self drive tours
While in France, you will drive by yourself, on small country roads as well as highways. To ensure your trip is a success, you must be sure this mode of travel is for you. To facilitate your trip and help you on a daily basis, FranceTriptailor will provide you with a road map that includes a highlighted itinerary.
You will also have the option of renting a car equipped with a GPS system, and, for those of you with iphones, you can find your location using the FranceTriptailor application. France's National Road Network is excellent.
Objectively speaking, anyone who can do the following will be able to navigate any of the proposed itineraries :
Read a road map and road signs.
Use a GPS system or their iphone.
Drive a car with a stick shift and steering wheel on the left (automatic gear optional).

Be resourceful.
A 24-hour support line is available in French, English and Spanish to assist customers with trip organization, car accidents, hospitalization, etc.
With our individualized itineraries, you can :
- Choose your departure date.
- Personalize your trip.
- Leave with whomever you wish.
- Visit regions at your own pace.
- Share the pleasures of your trip with a companion(s).
- Enjoy the benefits of a trip that would have been much more expensive had you enlisted the services of a guide.

Your trip's craftsman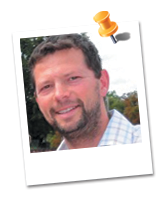 Jules, tourism professional for 10 years is available to answer all questions. Please contact me !
Free phone application ! Get a real-time location on your itinerary !
5 reasons to choose us
Optimize your stay on site.
Itineraries created and tested by a French tourism specialist.
An eco-friendly tour.
Only one contact person, available at all times and ready to assist you should any problems arise.
Service provided before and after your tour.

Discover all our tours
About FranceTripTailor
Customer area